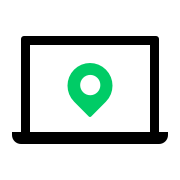 One platform. Infinite possibilities.
Easy to use, manage all your transport requests in one place.
Your transportation operations control center
To track a ride or generate a custom report, for financial transparency or operational efficiency, mobility professionals need management tools that match their responsibilities.
A quick snapshot - the home page shows your key metrics at a glance.
Activities, active members, kilometers traveled, trips taken, in addition to personalized reports and displays. You are in control.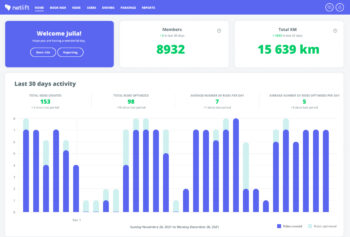 Plan rides - for knowledgeable professionals!
Make your own queries, with details such as recurrence and round trips, preset addresses, and special passenger conditions or package delivery notes. No more faxes and the risk of errors.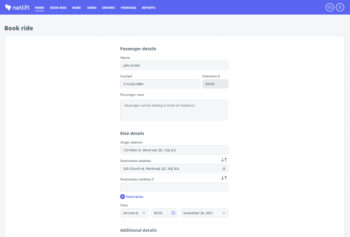 Impeccable classification - all rides in one place.
Find all your team's rides, customer history, and status of ongoing rides. Nothing is left to chance, nothing is lost.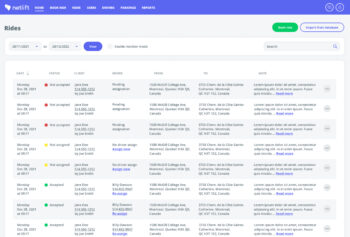 Optimize your routes - the magic of our algorithms.
Drivers, vehicles, addresses, time constraints - our system optimizes your lunchtime operations.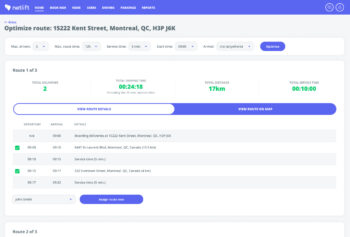 Impeccable traceability - track all drivers in real time.
A standard function, with a special touch. Whether planned, in progress or completed, view all the routes of your transport on the same screen.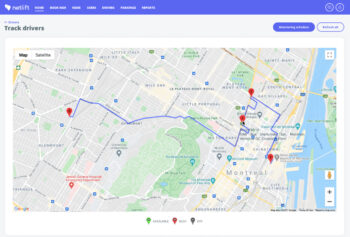 Your data, your rides, your reports.
All your transport data is accessible at all times. Our reporting and export tools facilitate accountability and financial control.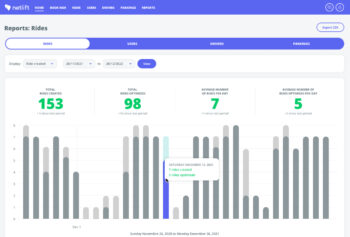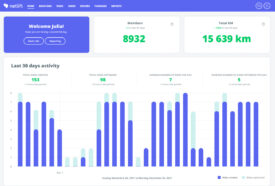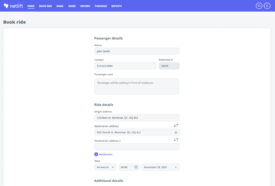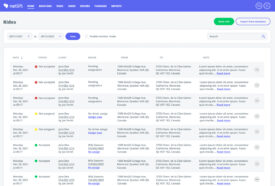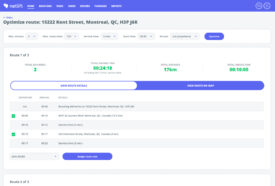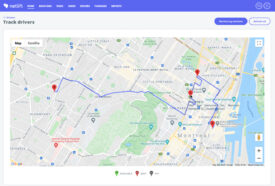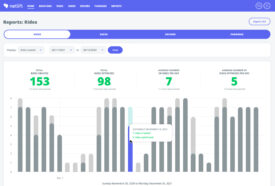 Features
| | Carpool | Taxi + paratransit booking | Transport optimization |
| --- | --- | --- | --- |
| | | | |
| --- | --- | --- | --- |
| Intuitive and simplified navigation | Yes | Yes | Yes |
| Reports filtered by cost center | Yes | Yes | Yes |
| List of parking bookings and occupancy | Yes | | |
| | | | |
| --- | --- | --- | --- |
| Login with password or SSO (SAML) | Yes | Yes | Yes |
| Several dashboards available per account | Yes | Yes | Yes |
| Employee account management (add, remove, status) | Yes | Yes | Yes |
| Customizable access levels per account | Yes | Yes | Yes |
| | | | |
| --- | --- | --- | --- |
| Customizable and quick to fill out ride creation form | | Yes | Yes |
| Round-trip bookings | | Yes | |
| Predefined client and address drop down menus | | Yes | Yes |
| Notes related to transport request/passenger | | Yes | Yes |
| Variable service time per ride | | | Yes |
| Ride edit, copy or cancellation | | Yes | Yes |
| Filtering and classification of rides (date, status, type of transport, driver/ driver, etc.) | Yes | Yes | Yes |
| Integration with Octopus (transport request import, request status update) | | | Yes |
| | | | |
| --- | --- | --- | --- |
| Ride optimization using the Netlift algorithm | | | Yes |
| Automatic or manual ride assignation to drivers | | Yes | Yes |
| Real-time ride status | Yes | Yes | Yes |
| Planned and effective pick-up and drop-off time | Yes | Yes | Yes |
| GPS- tracking to know real-time location | | of each driver associated to a ride | of each driver associated to the account |
| Schedule settings for GPS-tracking | | | Yes |
| iCabbi and Fraxion integration | | | Yes |
| | | | |
| --- | --- | --- | --- |
| Customer support via phone, chat or email | Yes | Yes | Yes |
| Integrated chat | | Yes | Yes |
| Notifications | | Pour faciliter la communication avec Netlift et les chauffeurs | Pour faciliter la communication inter-équipe |