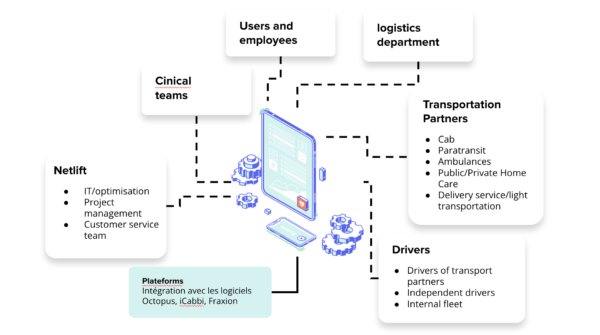 The transportation of people and materials is critical to the proper functioning of the transportation management in the healthcare system.
Current transport planning platforms do not meet the critical need to centralize routes for all types of transport while minimizing additional handling or data loss.
Netlift has set itself the challenge of developing a platform that is congruent with the transportation flows of the healthcare network.
Our tools are designed to facilitate the daily work of the teams with customizable and simple modules that adapt to the constraints and needs of our clients in the health care system.


Simple and quick launch
Our role is to accompany you in a proper management of change with your teams and network partners who take part in this project.
Our objective is to deploy this tool in different stages.
White paper: A new vision on medical transportation
The population is aging and healthcare expenses are increasing at an accelerating rate. Clinical staff - like the drivers who service medical transportation - are in short supply. The gap between the need and the ability of the healthcare system to meet the demand is expanding. This situation calls for doing more with less: adapting work organization, rethinking processes and deploying better tools.

Netlift responds to this need with a visionary three-point approach.
Enter your email address to consult the rest of the white paper.